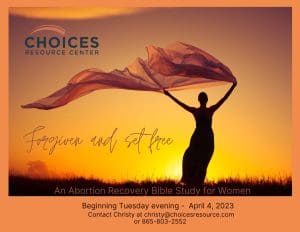 No matter what influences a woman to end a pregnancy, the physical, psychological, and spiritual side effects are real. Feelings of guilt, shame, and grief can become a heavy burden, and many women feel that they will never be free – but there is hope. We are excited to join hands with women of all ages as we walk with them through abortion recovery.
Join us on Tuesday evening beginning April 4, 2023 as we walk through this study, together.
Contact Christy at christy@choicesresource.com or 865.803.2552.